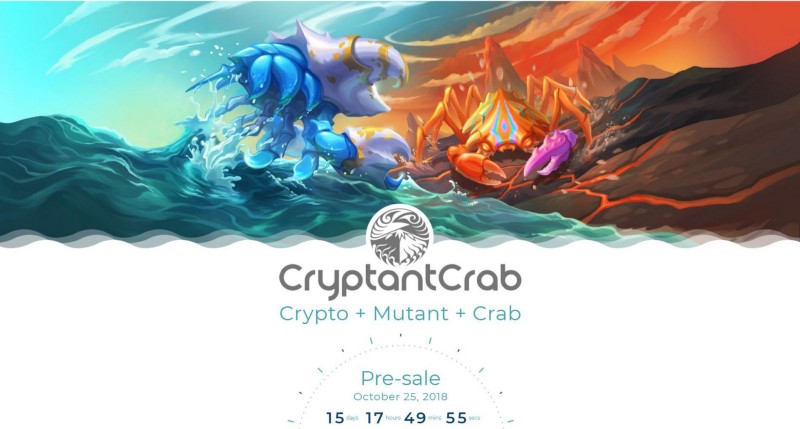 Source: CryptantCrab
CryptantCrab is announcing its pre-sale release date with a bounty campaign which is now open to all. The game, which is built on the Ethereum blockchain, takes its inspiration from an Asian pastime of raising fighting fish as it provides a similar experience to raising these virtual crustaceans that comes alive on the blockchain.
Created by iCandy Interactive Ltd [ASX: ICI], the public-listed game company announced that the Bounty campaign which kicked off on 4th October 2018 will reward lucky participants with the following:
CryptantCrab [worth 0.5 ETH*] is up for grabs
Following the bounty campaign, the CryptantCrab pre-sale will open on 25th October 2018 (12 am, +0 UTC), and early adopters will be rewarded with:
Pioneer status for pre-sale CryptantCrabs – this status will be visible in-game
Higher chances of obtaining Legendary CryptantCrabs
Unique Legendary CryptantCrab variants that are only exclusive for this event
The full-fledged game is set to be released towards the end of 2018.
A First for Blockchain Games
iCandy began the development of CryptantCrab as a spin-off from its award-winning mobile game, Crab War. Utilizing the Ethereum blockchain platform for the first time and reworked as a web-based game, CryptantCrab is an important milestone for iCandy as this will be one of the first blockchain games designed and developed in Southeast Asia.
Unique Gameplay – Mutation and Pet Battle
A key differentiator that makes CryptantCrab stand out is its in-depth gameplay. Each virtual crab is tagged with a digital token and comes with random individualized traits. As users spend time learning and discovering the capabilities of their virtual crabs, they can also mutate their crabs' parts. This is done with the in-game resource, Cryptant.
With Cryptant in hand, players can mutate their crabs as much as they like to create truly unique crabs. Gamers can choose to expand their collections or trade them off in the in-game marketplace. All aspects of the virtual crabs including the experience, the rarity of parts, and marketability will have an impact towards their overall market value within the CryptantCrabeconomy.
The other aspect of the gameplay, one-versus-one fights, will have a direct effect as multiple battles will raise the overall experience and stats of the virtual crabs. Cryptant is earned via these battles or can be purchased outright from the in-game shop.
Innovating the Games Community
iCandy has an existing mobile game portfolio that has more than 350 million gamers globally. Hence, it seeks to bring the new blockchain gaming experience to its growing community through various cross-promotional activities that it will be running through its game network.
"We are excited at the prospects that blockchain technology is able to put users front and center with their decisions to manage and improve their in-game resources in a transparent and secure manner. Having the ability to pit these digital crabs against one another in battles will create a dynamic global gaming environment that is completely new for most gamers. We look forward to building the world of CryptantCrab wh our players and, in turn, create a vibrant community of fans and interested gamers who want to experience blockchain gaming," said Desmond Lee, COO of iCandy.
For more information, head on over here!