23 March 2023
Storms' New Gaming Platform, Kyō, Aims to Bring The Next Billion Players onto Web 3.0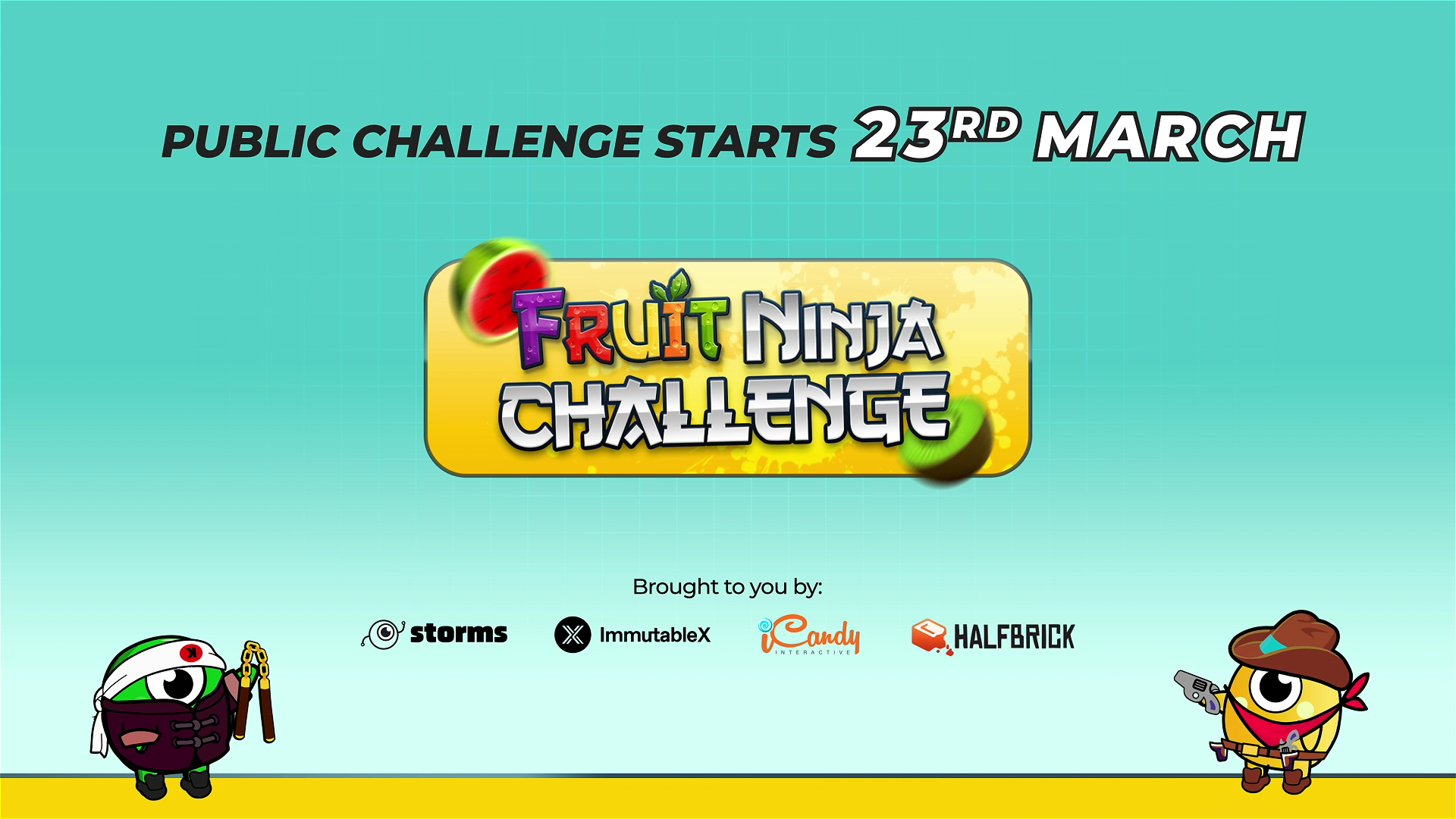 Storms has launched the Kyō Challenge, a fun tournament that uses the iconic Fruit Ninja game to onboard players ahead of the beta release of its Web 3.0 gaming platform, Kyō.
Kyō aims to provide frictionless Web 3.0 access and introduce billions of mobile users globally

1

to the next evolution of the World Wide Web.
Following the success of an invite-only tournament for selected Web 3.0 communities, the Kyō Fruit Ninja Challenge is going public from 23 March – 30 March 2023.
Storms, a subsidiary of Australian-listed international video games company iCandy Interactive, has announced the launch of its Kyō Fruit Ninja Challenge. The challenge precedes the closed beta release of Storms' Web 3.0 gaming platform, Kyō, which was developed in partnership with Immutable.
Kyō – A Web 3.0 Gaming Platform
Kyō, currently in its Alpha stage, is a no-download social instant games platform, with fun & engaging content. This includes access to popular original IPs such as Fruit Ninja and Jetpack Joyride, made for mass market appeal, regardless of age, gender and backgrounds. 
The mobile gaming market was valued at $131 billion in 2021, and is projected to grow to $173 billion2 by 2026. Storms' partnership with Immutable provides Kyō with the Web 3.0 infrastructure necessary to scale quickly and securely, all while ensuring a world-class user experience.
Kyō combines the concept of owning digital assets in the form of NFTs with gamified power attributes in its platform. These mechanics allow players to accumulate tokens to be able to upgrade, level up and unlock their NFTs for trading.
Storms also plans to facilitate the transition of traditional games to the next generation of gaming, by offering game developers who are currently limited by Web 2.0 distribution economics the option to integrate and distribute their games via its Kyō platform. 
The Kyō Fruit Ninja Challenge
The Kyō Fruit Ninja Challenge allows players to enjoy the iconic game from Halfbrick Studios wrapped in a fun tournament format, while at the same time helping onboarding them onto Web 3.0 in a frictionless way using social logins and creating custodial wallets linked to their accounts. 
Over 1,700 unique wallets were organically created in one week during the Kyō Fruit Ninja Challenge invite-only inter-community tournament, which premiered on 14 March 2023, with 20 communities, including, IndiGG, T2 LATAM, Ethlizards, Prime Planet and Froyo Games. More than 1,400 players participated and played a total of over 10,000 times.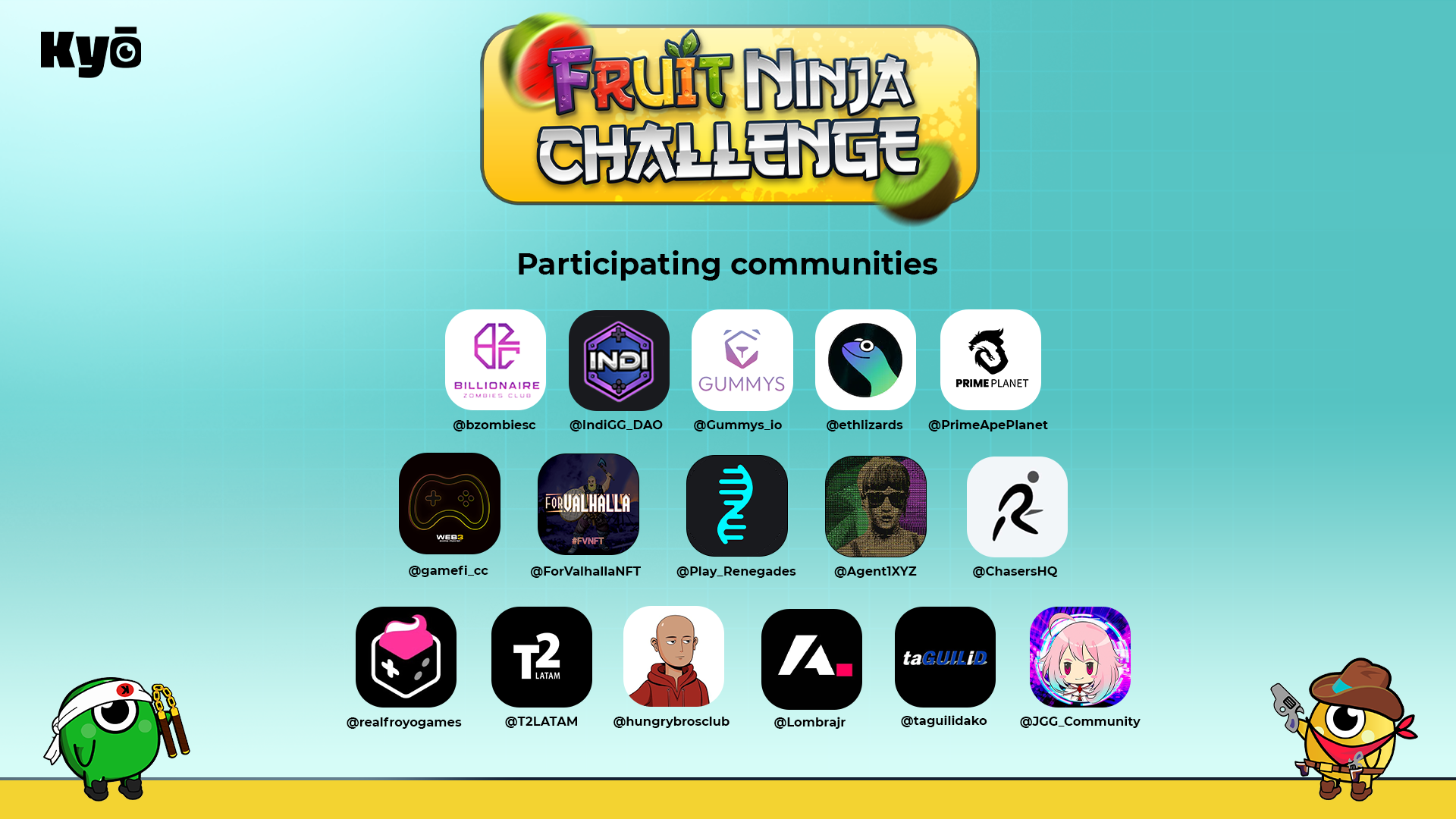 As an incentive, Kyō NFTs along with early access passes to Kyō's closed beta have been prepared for players taking part in the Kyō Fruit Ninja Challenge, and will apply to the public tournament opening to the masses from 23 March – 30 March 2023.
For the public tournament, the best scores of each player will be reflected on the public leaderboard, and the top players will each receive a free mint of Kyō's silver NFTs, with more Kyō bronze NFTs allocated for raffle to the rest of the players.
Join in and try out the Kyō Fruit Ninja Challenge for a chance to win exciting prizes. Participants who would like to learn more about the Kyō Fruit Ninja Challenge can visit https://challenge.kyo.games/. 
For further information, follow Kyō on Twitter at https://twitter.com/KyoGames or visit www.kyo.games.
About Storms
Storms is a Singapore-based gaming company seed-funded by three leading Asian telecommunications companies. Before being acquired by ASX-listed game developer and publisher iCandy Interactive in 2022,  Storms had assembled an existing library of 60+ instant and native games, obtained exclusive licenses to valuable IP from Halfbrick Studios and Voodoo Games, and developed a strong distribution network of partners, aggregators, super-apps, telcos, and brands. It is building an inclusive ecosystem for Web 3.0 gaming, where players worldwide can be entertained and connected through quality hypercasual gaming content. 
To learn more about Storms, visit: https://storms.com/ 
LinkedIn: https://www.linkedin.com/company/storms/
Twitter: https://twitter.com/StormsWeb3
About Immutable
Immutable is advancing the next generation of Web 3.0 games through ImmutableX, an industry-leading NFT minting and trading platform and the world's first Layer 2 rapid scaling solution on Ethereum. 
Today ImmutableX, leveraging ZK roll-up technology from Starkware, has grown to become the leading platform to mint, trade and scale web3 games and NFT projects on Ethereum,  offering builders and innovators a carbon-free, no gas fee solution with unlimited speed, scalability, security, and liquidity. ImmutableX is the platform of choice for world-class web3 games such as Guild of Guardians, Illuvium, Embersword, Planet Quest and many more. 
Join the Immutable community on Discord, Reddit, Twitter, Instagram, Telegram and Youtube.
About iCandy Interactive Limited 
iCandy Interactive Limited (ASX:ICI) is an award-winning, publicly traded video games company that has been listed on the Australian Securities Exchange since 2016.
With headquarters in Melbourne, Australia, and offices across Malaysia, Singapore, Indonesia, Thailand, and Germany, we are one of the largest independent game developers in the region. Our team of more than 700 full-time game developers, artists, and engineers has delivered more than 350 mobile, console, PC, and Web 3.0 titles. The Company has worked with some of the biggest names in the business on some of the most widely known titles and iconic franchises in video games history. For more information, please visit our website at https://icandy.io/.
iCandy Group is supported by a strong network of strategic shareholders, including Animoca Brands, Fatfish Group, Baidu, Singtel, SK Square, AIS, IncubateFund, as well as several Australian and international funds.
For more details, please contact: ir@icandy.io
Press Contact:
Douglas Chew
Senior PR Manager
douglas.chew@icandy.io